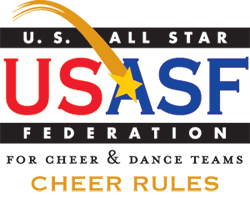 In 2016, the USASF Rules Team collected input about Cheer Rules, the USASF Age Grid and Program Definition from coaches and owners at USASF Regional Conventions, the NACCC Annual Meeting and the Cheer Rules Committee. The proposals that came from these discussions were made available in an opinion poll to eligible Professional Members. Click here to see a breakdown of coaches, owners and gym sizes that participated in the poll. More specifics will be provided on the February 2, 2017 Rules, Age Grid and Program Definition webinar. (Registration information was emailed to current members on January 25, 2017.)

After an unprecedented number of members participated in the discussion and polling process, the 2017-19 Cheer Rules, Age Grid and Program Definition have been approved by the USASF Board of Directors and are now available.

The collaboration across the organization, and the leadership of the Cheer Rules Team, made it possible for this rules release to take place four months earlier than previous rules cycles. Thank you to all who contributed to the process.