REGISTRATION IS NOW OPEN!
Click a location below for details.
| | | | | |
| --- | --- | --- | --- | --- |
| CHICAGO | BALTIMORE | ORLANDO | DALLAS | LAS VEGAS |

REGIONAL CONVENTIONS
Last summer we introduced a brand new format and athlete-centered approach to All Star education with the focus on safe skill development through level progression. The USASF Tumbling, Building and Safety Teams, along with input from coaches and All Star experts have put together classes that will prepare coaches to safely guide athletes to proficiency at their level.
Featured Classes:

"You Broke It, Let's Fix It" reveals the most common rules that were broken this season and shows coaches how to make those skills legal.
Exclusive character coaching sessions by National Trainers from the Positive Coaching Alliance.
A series of tumbling and building classes centered on rules, glossary and skill technique present how to teach level skills safely and how to apply technical elements to fit within the safety rules and guidelines.
USASF Cheer & Dance Legality Official Certification.
USASF Cheer Coach Credentialing

PLAY TO LEARN MORE
PRE- AND POST-CONVENTION WORKSHOPS
Because of their success last summer, we're continuing the pre-and post-convention workshops for coaches, owners and athletes! Extend your Regional Convention experience with these opportunities:
IMPACT
Make an IMPACT on your athletes, program and fellow coaches by participating in this leadership series for All Star Cheer and Dance professionals. Offered at all USASF Regional Conventions to professionals who consider All Star their career, IMPACT emphasizes that Integrity Motivates People And Cultures to Transform. Participation in the IMPACT Leadership Series gives you eligibility to apply for the USASF Mentoring Leaders program.

Class Time: 9:00 am – 6:30 pm, the Thursday before each Regional Convention
Fee: Only $99 if you're attending a Regional Convention, $159 for Thursday only.
Limited to 125 coaches per region.

PLAY TO LEARN MORE
Jump Start
Do you have a new or developing All Star program? Join USASF Sr. Regional Director Karen Wilson and All Star leaders for this free Regional Convention add-on session aimed at helping you set a solid foundation for your brand-new or growing program. Connect with a mentor, share ideas and leave this class with a self-directed plan for growth and longevity in All Star.

Class Time: 6:30pm – 9:00pm, the Thursday before each Regional Convention.
Fee: Free for USASF members.

Athlete Leadership
The USASF is offering two programs for athlete leadership training.
Bettering Our Leaders of Tomorrow (BOLT), and Males Advancing Respect, Character and Honor (MARCH) introduce and encourage concepts of integrity, accountability, personal growth and self-confidence to the future leaders of All Star.

BOLT activates young female cheer and dance leaders to become strong peer role models who put team first, fully commit to their All Star program and learn to make the choices that lead to accomplishment. Developed and led by alumni of the USASF Mentoring Leaders program, BOLT will set young athletes on their path to success.

NEW for 2017!
As a complementary program to BOLT, we're introducing a leadership program just for male All Star athletes! Males Advancing Respect, Character and Honor (MARCH) builds confident, strong, principled and energetic male leaders and prepares them to lead their peers, their team, their All Star programs and in their extended community.

All USASF cheer and dance member athletes who are entering 9 th through 12 th grades are eligible to attend BOLT and MARCH, offered at all five USASF Regional Conventions this summer. Athletes who complete this exclusive training and the associated give-back project in their program are eligible to apply to attend the Regional Advisory Board meeting in their region the following summer. Get plugged in to the USASF as an athlete and grow with us, and our sport, as a part of this athlete education program.

Registration: 8:30 am
Workshop: 9:00 am – 5:00 pm, the Sunday following each Regional Convention located at the Regional Convention Host Hotel
Fee: $95 Includes lunch and participant gifts.

PLAY TO LEARN MORE ABOUT:
BOLT | MARCH

NEW in 2017! Regional Connect
Plan to stay over the Sunday following your Regional Convention for your Regional Connect. Historically, the NACCC (now the NASC) has held one annual meeting to discuss and address important topics in All Star. To make this opportunity more accessible to more members, this annual meeting will instead be offered in every region. After two great days of learning, your Regional Director and coach and owner leaders of The USASF Connection will facilitate the exchange of ideas on a variety of relevant topics. Ideas discussed here will then progress through the organization to the appropriate committees. Your Regional Connect is your opportunity to be a part of positively shaping the future of All Star!
USASF CERTIFICATION AND CREDENTIALING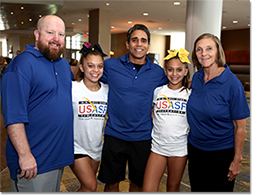 Legality Official Certification
USASF event producer members are actively seeking Legality Officials who are cross- certified for both cheer and dance. Legality Officials who participate in either cheer or dance certification may go through the second certification free of charge.
Click here for more information

Cheer Credentialing
The USASF Cheer Credentialing Program examines, tests and certifies the knowledge, expertise and proficiency that a cheer coach possesses to safely teach building and/or tumbling skills in Levels 1-5. Current USASF Career Members who are 18 years or older are eligible for the credentialing program. Be sure to sign up for a Credentialing session at your Regional Convention this summer!