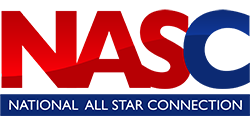 The National All Star Connection (NASC) is the gym owners and coaches organization of the USASF. It maintains an Advisory Council and Regional Team Leaders to represent the voice of the coaches and gym owners and to promote the education and safety of members. The NASC works with the Rules Committee re: rules proposals, the voting slate, and the rules process. The NASC conducts an annual meeting and participates in the USASF Regional meetings.
Let Your Voice Be Heard - How to Get Involved
Get to know your Regional Representatives
Submit feedback and ideas for rules, safety guidelines and other initiatives to your NASC Regional Team Leaders
Attend meetings and contribute to discussions
Participate in surveys and opinion polls
Participate in the nomination and election process when seats are open in the NASC Regional Team Leaders
Charter
The National All Star Connection (NASC) is the path for involvement for program owners and coaches of the USASF. The NASC provides opportunities to collaborate, contribute, share resources and mentor USASF members, all in an effort to promote the longevity and viability of All Star. Through participation in programs offered at USASF Regional Conventions and facilitating conversation and owner and coach input to Cheer Rules proposals, the NASC inspires and influences owner and coach excellence.