07/25/2016 12:28 PM
-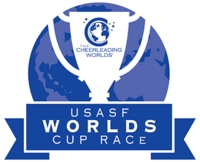 There's a NEW Road to The Cheerleading Worlds!
The USASF is thrilled to announce an additional opportunity for Level 5 and 6 cheer teams to earn their way to The Cheerleading World Championship!
Overview:
All Level 5 and 6 Teams that enter one or more of 49 designated USASF Worlds Cup Race events will earn points that are tracked all season long. At the end of the season, the top six Level 5 and 6 Teams with the highest point totals will receive Paid or At-Large Bids to the 2017 Cheerleading Worlds.

Bids will be awarded as they always have been at events hosted by Tier 1 USASF Event Producer members. The Worlds Cup Race is an additional opportunity offered by all 42 Tier 1 Event Producer members and seven Tier 3 Event Producer members. Points will be calculated at all 49 events to determine bid recipients. (Details below)
When:
2016-2017 Competition Season (November 1, 2016 - April 10, 2017).
New Worlds Bids Awarded by USASF:
Three Paid Bids ($650 per athlete/plus two coaches) and three At-Large Bids.
Process:
At the conclusion of each designated event, the Event Producer will post their Level 5 and 6 Team results in the Worlds Cup Race database to be calculated and ranked nationally.
Current standings will be available on USASF.net at the end of each week.
Points are calculated based on final rankings and the number of teams in the division. (When divisions are combined, the Event Producer will enter results as if the divisions had not been combined.)
A maximum of the five highest calculated scores per team will be used in the Worlds Cup Race totals.
After

April 10th, 2017

, once all USASF Cheerleading Worlds Cup Race results are complete, the USASF will award three (3) Paid and three (3) At-Large bids to The Cheerleading World Championship to the Level 5 and 6 Teams with the six (6) highest point totals (Paid: 1st, 2nd and 3rd place teams / At-Large: 4th, 5th and 6th place teams). If any team already has a Paid or At-Large Bid, the Cheerleading Worlds Bid(s) will go to the team(s) with next highest score(s).
Click here to see the list of 2016-17 USASF Worlds Cup Race Events